DRC
Congo ,is a country which is located in Western part of Rwanda and it's located in Great lakes region.
Congo has some main touristic attractions which real attract tourists to visit so that they can get a memorable life-time experience.
Those touristic attractions can be national parks or Volcanoes Hiking:
*VIRUNGA NATIONAL PARK: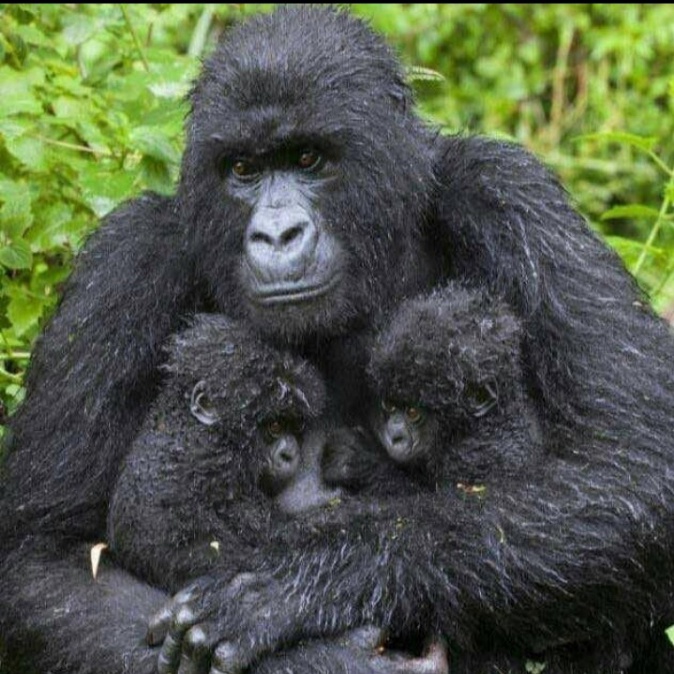 Virunga National Park is a UNESCO World Heritage Site internationally recognized for its exceptional wildlife and habitats. Explore one of the most biodiverse protected areas in the world.
Virunga National Park is a UNESCO World Heritage Site located in the east of the Democratic Republic of Congo. Virunga is the continent's most biologically diverse protected area and a national park embarking on an ambitious development programme known as the "Virunga Alliance".
Situated in a region which has been deeply impacted by the effects of war and armed conflict for over 20 years, Virunga is currently protected by a dedicated team of 689 Rangers. These local men and women go through intensive training, risking their lives on a daily basis to safeguard the Park's exceptional wildlife, including the last of the world's endangered mountain gorillas.
Alongside this essential conservation work, the Park is committed to supporting local communities. Virunga has a vision for responsibly harnessing the Park's natural resources to create new opportunities for the four million people that live within a day's walk of its borders.
Focussing on three key areas: hydropower, sustainable agriculture and fisheries, and tourism, Virunga National Park is working to economically transform the region – creating jobs and reducing poverty rates. This innovative, community focussed approach to conservation is working to reduce the pressures currently faced by the Park's Rangers from armed groups, illegal poaching, and land encroachment.
Explore Virunga National Park
The Park's 3,000 square miles (7,800 square kilometers) is comprised of four sectors – northern, central, southern and lake sector – each with an unrivaled diversity of landscapes and ecosystems.
Situated in the center of the Albertine Rift, between Uganda and Rwanda, Virunga's 7,800 square kilometers (3,000 square miles) stretches from the Virunga Massif in the south, to the Rwenzori Mountains in the north.
The central sector is based around Lake Edward, the Ishasha river valley and the Rwindi plains.
Virunga's southern sector is best known for its montane tropical forests, active volcanoes, and the mountain gorillas that live on the flanks of the dormant Mikeno volcano.
The History of Virunga National Park
Virunga National Park was founded in 1925 as Albert National Park. It was the first national park to be established on the continent of Africa, primarily to protect the mountain gorillas living in the forests of the Virunga Massif.
When it was first established, Virunga National Park was limited to three volcanoes in the south, but was later expanded northward to include the Rwindi plains, Lake Edward and the Rwenzori "Mountains of the Moon".
In 1969, following the country's independence from Belgium in 1960, the Park was renamed Virunga National Park. Ten years later in 1979, Virunga was designated as a UNESCO World Heritage Site.
Over the past 20 years, Virunga has seen many periods of conflict, often beginning in or around the Park. Eastern Congo is one of the most economically disadvantaged places on earth, and competition for the Park's rich natural resources has always been fierce.
In 2008, the Congolese National Parks Authority, (Institut Congolais pour la Conservation de la Nature, ICCN), and the Virunga Foundation (then known as the Africa Conservation Foundation), entered into a partnership to manage the Park.
This partnership initiated a comprehensive reform program and planted the seed for what would become the Virunga Alliance – an innovative development programme to address the root causes of poverty and conflict, with the aim of eradicating illegal and destructive resource extraction in the region.
The Mountain Gorillas of Virunga National Park
The world's entire population of critically endangered mountain gorillas live only in the Virunga Massif and Bwindi National Park, which spans parts of Democratic Republic of the Congo, Uganda, and Rwanda. Virunga National Park is home to around a third of those gorillas, which reside in the dense forests on the lush slopes of the Virunga volcanoes.
The world population of mountain gorillas is currently estimated to be at around 1000 individuals. In Virunga's southern sector around Bukima, there are currently ten habituated gorilla families and four solitary males which are also habituated, meaning that they are unafraid of human presence.
The habituation process is done by researchers and rangers who visit the gorillas on a daily basis for between two and three years until the gorillas are comfortable having people near them. Habituation is a critical component of gorilla conservation, as it allows for detailed research to be undertaken on the species. This helps to increase understanding of mountain gorilla behaviour, as well as allowing veterinary teams to intervene if gorillas are injured or showing signs of ill health.
*KAHUZI BIEGA NATIONAL PARK: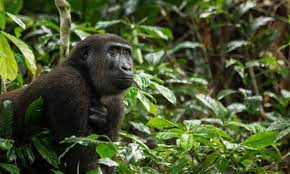 Welcome to Kahuzi Biega national Park travel & information portal that will guide you on how to get there, attractions, where to stay, securing a gorilla permit, prominent Congo gorilla Trekking Trusted Tour Operators, travel tips, what to wear, when to go, Nature walks , Gorilla Habituation and recent news about the Lowland Gorillas in Congo.
The Kahuzi-Biega National Park (KBNP) was gazetted in 1970 to conserve the Grauer's gorilla, the world's largest gorilla species. It remains the only place in the world where visitors can see these gorillas in the wild. The park covers an area of 6000 km 2 and protects a mountain forest in eastern DRC, which is the most densely populated region of the country. The park is named after the two spectacular extinct volcanoes which dominate its high altitude sector, Mont Kahuzi (3,308m) and Mont Biega (2,790m).Kahuzi Biega National Park is a Safe destination that is managed by Wildlife Conservation Society.
Gorilla Safari Information:
Kahuzi Biega National Park was created in 1970 and occupying the area of 60000 and the first lowland gorilla trekking was done in 1973 in kahuzi biega and its among the reasons that it ranks high when it comes to eastern lowland gorilla trekking, in1975 the park was extended from an area of 60000 to 600000 ha,1980 it was just listed as a heritage centre , 1997 its was listed on the world heritage sites in danger that concerned the Congo government and other conservation organization to try and conserve the lowland gorillas through campaigns and various park activities like 1 Day Gorilla Trek Congo.
In Congo Various Congo Safaris tailored by the list of Congo Safari Companies to include Visiting Kahuzi Biega National Park for Eastern Lowland Gorillas Watch and other Primates , Hike and Community visit.
Lowland Gorilla Trekking in Congo
The eastern lowland gorilla—also known as Grauer's gorilla—is the largest of the four gorilla subspecies. It is distinguished from other gorillas by its stocky body, large hands and short muzzle. Despite its size, eastern lowland gorillas subsist mainly on fruit and other herbaceous materials, just like other gorilla subspecies.
Gorilla Trekking guide in kahuzi biega in congo is an encounter with the few remaining eastern Lowland Gorillas, which will reward you a clear comparsion of Mountain & Lowland Gorillas in Africa. However only two Gorilla Families are conserved and Open for Gorilla Trekking by Travelers that wish to adventure into the Jungle. We have realized that Congo Gorilla Safaris is the Leading tour Operator that is offering Lowland Gorilla Safaris & Tours to Congo. Wishing to trek the Lowland Gorillas in Congo, Select Congo Gorilla Safaris as your travel partner to ensure the memorable Experience to adventure into the Jungle on Guided Safari, Gorilla Trekking in Eastern Lowland Gorillas in Congo is Possible to join it with Kigali Visits. Go Gorilla trekking in congo requires securing the Gorilla Permit, it costs USD 400 and enjoy the visit to various Gorilla Families on the Safari Holiday.
Getting there:
Kahuzi Biega National Park is located 30 Kms from Bukavu Town and it takes one and Half Drive to enter into the National Park and its can be accessed by road and by air however travelers have to understand that from kavumu airport and at Miti, take left and keep going straight until you reach the visitor centre. Self Drive East Africa offers Reliable Car rental to Rwanda, Uganda, Kenya, Tanzania, Burundi & DR congo for all transfers at affordable rates.
Park Security
Democratic republic of Congo is known to be a region full of mystery, and we have also come to realize that safety is also the primary concern for the tourists in the recent days and it's also important to always stay updated on the internal issues which might affect travel in the democratic Republic of Congo. Since it's not completely safe in all the parts of the DRC and it's important to choose a tour operator who is knowledgeable about the local conditions. More than any other economic activity, Kahuzi Biega National Park Guides takes Care of Gorilla Trekkers and Hikers when in the park for Any Activity and never think of self drive Safaris to Congo.
What to Bring on Gorilla Trekking
The enjoyment of the amazing gorilla trekking experience to Democratic republic of congo starts with the packing list, clothes to wear and When Planning for Congo Gorilla tour in Kahuzi Biega National Park be mindful of what to bring for Gorilla Trekking in Congo, always pack the african clothing wear for memorable safari adventure.
For the Moment Visitors to Kahuzi biega national park should be a ware that there is no lodge or Accommodation that has been developed at the park but all lodges recommended are found in Bukavu town the nearest town located south of lake kivu.But for budget travelers / visitors the park offers camping at the park headquarter in Lwiro. Go gorilla trekking in congo to enjoy the true experience of watching the world's largest primates called Eastern Lowland Gorilla.
Find the list of Accommodation and lodges that have the best services to offer for Congo Tourists.
When Visiting Congo for Gorilla Safari Holiday, it requires to buy the Gorilla permit which costs USD 400 to enjoy the Gorilla Trekking Experience in the Jungle of Kahuzi Biega National Park.
Congo Tourists Visa
Wishing to Visit Congo as a Tourist, Enjoy a Gorilla Safari Holiday in Congo by Entering Congo with a Cheap Tourists Visa sold to travelers that Explore Congo as Gorilla Watchers due to the Congo Tourism Potential Features found in the Country.
Don't Hassle so much to book a Gorilla Safari in Congo, Find the reliable Safari Companies that can help you in organizing Gorilla Trekking Adventure for a life time Memory.
Kahuzi Biega National Park Directory has listed the best recommended Tour Operators that can help you in the Organization of the Gorilla Trekking Experience in Congo, check out on the 5 Days Gorilla Trek Africa in Congo.
Lowland Gorilla Trekking Rules
There are rules and Regulations that must be observed by Gorilla Trekkers in Congo in order to conserve the Lowland Gorillas in the Wild. Gorilla Trekking Rules and Regulation, Find More Information about the Dos and Donts while on Gorilla Trekking in Kahuzi Biega National Park.
Hiking in Kahuzi Biega National Park are among the top best safari activity to be enjoyed by travelers that wish to hike, and camping is the available accommodation , Hike the Mount Kahuzi and Biega on a Congo Safari Holiday with any Tour Operator when you visit Congo. Also Don't Miss to trek the Mountain Gorillas in Congo National Park of Virunga or Even in Uganda and Rwanda.
While in Kahuzi Biega National Park, besides visiting the Eastern Lowland gorillas, you can take a safari to visit the Mountain Gorillas in Virunga National Park, Maiko National Park, ituri forest, Upemba National Park & Okapi Wildlife Reserve and other interesting tourist areas that are worth checking out like the Idjwi Island.
In kahuzi biega national park the terrain is rough while accessing the areas mostly starting from Kahuzi Tourists Centre but a 4×4 Safari jeep will ensure you get to the destination on time to enjoy the gorilla trekking on 3 Days lowland Gorilla Tour.
1 A Gorilla Trek in Congo A trek through this, is among Africa's most ancient rain forests, in search of the vulnerable Eastern Lowland Gorillas, ranks among one of the world's premier Primate encounters and its a wonderful adventure to Mountain Gorillas in Volcanoes national Park Rwanda , Big five Wildlife Tanzania Safari as multi country safari.
Where Else Can you see Eastern Lowland gorillas? After your gorilla tours in Congo, a visit to Maiko National Park is a great opportunity to see the other half of the remaining Eastern gorillas in the world. Visit the Volcanoes National Park Rwanda for Gorilla trekking or combine the Nyiragongo climbing tour on multi country adventure in Africa.Besides the mountain gorillas, check for Gorilla Trek Africa. You can combine your Rwanda or Congo gorilla tour with climbing mount Nyiragongo.
Park Location
Kahuzi Biega National Park lies west of the Bukavu town in South Kivu Province that borders with Rwanda. A small part of the park is in Mitumba Mountain range of the Great Albertine and the larger part is in lowland terrain, a corridor of 7.4 kilometres (4.6 mi) width joins the mountainous and lowland terrain. The eastern part of the park is the smaller mountainous region measuring 600 square kilometres (230 sq mi); the larger part measures 5,400 square kilometres (2,100 sq mi) and consists mainly of lowland stretching from Bukavu to Kisangani, drained by the Luka and Lugulu rivers which flow into the Lualaba River. Two dormant volcanoes are set within the park's limits and lend their names to it: Kahuzi (3,308 metres (10,853 ft) and Biéga (2,790 metres (9,150 ft)).
Management of the Park
The mission of the Kahuzi-Biega National Park Board is to conserve the biodiversity of this geographical area, in order to maintain its global value from an ecological, socio-economic and cultural perspective. And it established different bodies in the park to ensure the objectives like Ensure protection, sustainable and participatory management and of its influential zones, in order to maintain its integrity. These sections are listed here and they include Protection, Community Conservation, Gorilla Tourism, Research & Monitoring, and Administration & Finances
Conservation Status
Kahuzi Biega National Park is under the management of the Institute Congolese pour la Conservation de la Nature has a basic management and surveillance structure. However, the park's 1975 expansion, which included inhabited lowland areas, resulted in forced evacuations with about 13,000 people of the tribal community of Shi, Tembo and Rega affected and refusing to leave.Cooperation by the communities living around the park and employment of the Twa people to enforce park protection was pursued by the park authorities. In 1999 a plan was developed to protect the people and the resources of the park and this played a key role in the conservation of the low land Gorillas (Eastern Lowland Gorillas) and other primates in the park like Monkey, Cercopithecinae, Common chimpanzee, Colobinae, Hamlyn's monkey and many more.
An Eastern lowland gorilla Among the 136 species of mammals identified in the park, the eastern lowland gorilla is the most prominent. According to a 2008 status report of the DR of Congo, the park had 125 lowland gorillas, a marked reduction from the figure of 600 gorillas of the pre-1990's conflict period, and consequently the species has been listed in the endangered list. The park is the last refuge of this rare species.[6] According to the census survey of eastern lowland gorillas reported by the Wildlife Conservation Society in April 2011, at least 181 guerrillas were recorded in the park.
Flora and fauna
The park has a rich diversity of flora and fauna and provides protection to 1,178 plant species in the mountainous region of the park, with some 136 species of mammals 349 species of birds, as of 2003,
Flora
The park's swamps, bogs, marshland and riparian forests on hydromorphic ground at all altitudes are rare worldwide. The western lowland sector of the park is dominated by dense Guineo-Congolian wet equatorial rainforest. The eastern mountainous sector includes continuous forest vegetation from 600 metres (2,000 ft) to over 2,600 metres (8,500 ft), and is one of the rare sites in Sub-Saharan Africa which demonstrates all stages of the low to highland transition, including six distinguishable primary vegetation types: swamp and peat bog, swamp forest, high-altitude rainforest, mountain rainforest, bamboo forest and subalpine heather.
Getting There
How to Get to Kahuzi Biega, Transportation in Congo- Car hire Services.
International Airline Travel
Visitors to Kahuzi Biega National Park usually fly into Kigali international airport and take the 7 hour drive to the border crossing at Rusizi 1. International flights often arrive in the late afternoon or evening. For such arrivals, we recommend spending the night in Kigali and leaving for Bukavu the following morning.
Kahuzi Biega National Park is situated in the eastern part of the Democratic Republic of Congo (DRC), near Southern shores of Lake Kivu and the Rwandan border and most of the visitors that travel to kahuzi biega national park come from Either Goma or Rwanda via Rusizi border . It consists of a smaller sector on the eastern side covering part of the Mitumba Mountains, and a larger western sector in the Congo central basin. The two zones are connected by a narrow corridor. The entrance to the park is at Tshivanga, on the eastern side.
Kahuzi Biega National Park can be accessed by various ways depending on the visitors interest but the most commonly used is the Road transport and it will require a 4×4 Fleet to enable you enjoy the gorilla trekking adventure.
By Road
The roads to kahuzi biega national park are rough and even it needs paying toll fees to connect from one province to another.
Kahuzi-Biega National Park is located 40 km west of Bukavu. It takes approximately 1 to 1½ hours to drive from Bukavu to the entrance of the park. Follow the road heading towards Kavumu Airport and turn left at the intersection in the town of Miti. Keep driving straight until you reach the Tschivanga visitor centre. The easiest way to get around is by using one of Congo tour operators currently offering the Lowland Gorilla Safaris in Congo. The park can be accessed via the following routes.
1. Starting from Rwanda Side on Road it take 6 to 7 hours driving from Kigali town to the city of Cyangugu, also named Kamembe (station border of Ruzizi I). It's the nearest town to Bukavu, after crossing the two borders, it takes an hour and half driving to reach the Park Headquarters and the nearest accommodations in the Park
2. Starting from Burundi side it takes 3 hours driving, you will have to cross Rwanda border of Ruwa then Ruzizi 1. It's the shortest way to enter into the national Park from Burundi.
3. Starting from Uganda connecting to kahuzi Biega national Park is quite tiresome as the visitor may seek overnight stay in Musanze for the case of visitors that have crossed to rwanda via Cyanika Border and the next day early morning take a serious drive to reach Bukavu town .
4. Starting from Goma in Congo near Virunga National Park: there is a road connecting the two kivu town, it take 5 to 6 hours driving but its not safe and un recommended. The astonishing landscape and the company of the lac will give spectacular view.
By Water:
Visitors that have been in Goma for a Safari and wanna add up the extension of the safari to cover Kahuzi Biega National Park, there are ferries that ran from Goma to Bukavu passing through the Idjwi Island on Lake Kivu. The Drive on Speed boat takes about 3 Hours and the public boat takes around 4-5 hours. Then upon arrival at bukavu , you will take a drive in 4×4 Safari jeep to access the park. Special Hires of boats are available at the lake shores but enjoy the public transport boats for security reasons unless its organized by a Tour operator recommended:
If it's a shared Boat the charge can be between USD 50-70 Speed Boats and special tickets are sold but we advise you to book in advance to avoid Disappointments and for slow boats it costs USD 35, Don't miss the visit to Kahuzi Biega National park because of transport, Join the Boat from Goma to Bukavu.
By airlines
The park can also be accessed by Air where by the visitor may board a domestic charter flight from Kigali to Rusizi Border ( Kamembe airport ) and then cross to congo into Bukavu Town to embark into the safari jeep to drive to Kahuzi biega National park which is likely to take 1:30 Minutes drive.
How do you feel once you meet the Eastern Lowland gorillas of Kahuzi Biega National Park
These are also endangered species and are so exclusive to the Kahuzi Biega National park & Maiko National Park all located in Democratic Republic of Congo, this is the only country where the tourists get the chance to trek and see them at up close on a Congo gorilla Trekking . These species mostly live in the bamboo forests as well as vegetation in the lowland forests only found in central Africa. These also mostly eat the bamboo shoot. These have got two habituated gorilla groups with in Kahuzi Biega national park. The permits for trekking the Eastern Lowland Gorillas only cost $400 and there is always no limit to how many people can do this trek. There is also no age limit.
*NYIRAGONGO VOLCANO LAVA: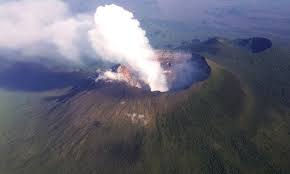 Nyiragongo, is located in the Western branch of the Rift Valley near Lake Kivu and the Congolese-Rwandese border, is one of the world's most active volcanoes. It is notorious for its lava lake and producing lateral eruptions with extremely fluid, fast-moving lava flows that repeatedly devastated areas around the volcano, such as the Goma desaster on January 2002, when a lava flow destroyed much of the city's commercial center and promted 200,000 people to flee.
The large lava lake contained in its deep summit crater, now active again, became famous in the 1960's and 70's when volcanologists such as the Kraffts and Tazieff studied it. It had been active for half a century before it drained in one of the volcano's recent most catastrophic eruptions in 1977: through openings in its outer flanks in 1977, a huge lava flow poured out and killed hundreds of people. A similar event happened again in January 2002, when lava flows from flank vents drained the lake and cut through Goma, reaching Lake Kivu.
In contrast to its neighbor volcano, Nyamuragira,- a typical, and very active shield volcano comparable with Mauna Loa,- the 3470-m-high Nyiragongo displays the steep slopes of a stratovolcano. Terraces inside the steep-walled, 1.2-km-wide summit crater mark levels of former lava lakes, which have been observed since the late-19th century.
Two older volcanoes, Baruta and Shaheru, are partially overlapped by Nyiragongo on the north and south and look like lateral cones. About 100 parasitic cones are located primarily along radial fissures south of Shaheru, east of the summit, and along a NE-SW zone extending as far as Lake Kivu. Many cones are buried by voluminous lava flows that extend long distances down the flanks of the volcano.
How to reach Mount Nyiragongo
Mount Nyirangogo can be reached from several areas but for security reasons, it is safer through Gisenyi town in Rwanda. From Gisenyi, visitors will be driven for 20 km to the border between Rwanda and DR Congo before crossing to Goma. From Goma town, a great black cloud is visible which is a reminder of the volcanoes last eruption in 2002. The lava that once flowed at great temperatures has now cooled to leave a black rock. After Goma, you will be driven to the head trail at Kibati village. You will be briefed on what to expect before starting your Mount Nyiragongo volcano hike. The briefing covers all important aspects of hiking the Nyiragongo Volcano and includes what to expects, the stopping points and what to pack. Hikers will need to move as a group for most of the activity except for the final part of the hike.
Climbing Mount Nyiragongo
Climbing mount Nyiragongo can be very challenging for those who are ill prepared and not good shape. One needs to be ready to deal with the steep slopes and rugged terrain. There are porters at the starting pointing in Kibati Ranger post who can be hired for a fee to help with carrying heavy stuff. After the briefing at 9 am and assembling as a team together with the cooks and other hikers.
There are five segments when climbing mount Nyiragongo. The first part of the hike involves climbing through areas at lower altitude. Those who are not mentally or physically prepared usually quit at this point. After the first major stop, the altitude increases presenting more challenges. In this second part of the hike, one has to deal with small loose lava rocks. Those who have proper hiking boots should pass through this section with ease.
After completing the second part, hikers have to now deal with not only the small loose rocks but slippery stones and the difficult conditions of higher altitude. By the time you reach the fourth segment, the mountain slopes gets steeper and steeper with greater cold due to high altitude. Apart from the cold, its common to find rains at this section – Warm clothes and rain jackets will be required. The final part is the steepest but also shortest. The cabins can be sighted from this point and that is enough motivation for even the most tired hiker. Hikers who manage to reach this section are allowed to complete the rest of the hike at their own comfortable pace.
Overnight on top of the Nyiragongo volcano cabins
12 summit cabins are provided at the top of the volcano each comprising of 2 single beds where hikers can put their sleeping bags. The cabins have a mattress and pillow. While at the cabin hikers are provided with snacks, breakfast, dinner, water and sleeping bags. The mountain top can be freezing cold with strong winds . You need to be to go prepared with warm clothing. The cooks and porters will help prepare hot tea and coffee to help relieve hikers from the cold. The cost of an overnight at the summit is included on the permit fee. From the cabins you can smell the boiling and bubbling lava.
Getting Down
After marveling at the boiling lava lake and magma, it is time to descend. Descending is much faster and it takes about three hours hours to reach the starting point. However it is not as easy at it seems. Climbing down through sharp rocks and steep sections can be very challenging and one needs to be cautious so not to be hurt by the sharp rocks. The great thing about descending is that you have a sustained view of the great Virunga National Park and distant Volcanoes including the Rwenzori Mountains in Uganda and Lake Kivu.
The cost and requirements for getting a Congo Visa
Nyiragongo hiking permits can be obtained from the Virunga National Park directly or through a Tour operator at a cost of $300. Once bought, Nyiragongo Hiking permits do not attract a refund. You need to first secure the hiking permit before applying for a Congo Visa. A single Congo tourist entry visa costs $105 per person. This single entry visa is valid for 14 days from the day of entry.
A part from the VISA, you need to have other documentation with you to cross the Congo border from Rwanda. A Valid passport is a must as is a yellow fever vaccination card. A good tour company should help you acquire the VISA as well as arranging for transportation, accommodation and porters.
Packing List for hiking mount Nyiragongo
A rain jacket: This should be light so as not to inconvenience you while climbing the mountain. The rain jacket will help shield you from the heavy rains.
Suitable hiking boots: The shoes should have a good grip (rubber soles), water proof, comfortable and able to keep your feet warm.
Warm clothes and sleeping bag: The mountain gets colder as one ascends higher and you need to be prepared in the best possible way. Go with warm clothing to stop protect you from the freezing cold at the summit. You will need a sweater, rain resistant pants, jacket, long underwear, warm socks and hat.
Packed lunch and Water: Climbing Mount Nyiragongo can be very tiring leaving you thirsty and even hungry. Carry along packed lunch and enough drinking water
Hire a porter: Hiring a porter at the base of the volcano costs about $15 per day. These porters are used to climbing the volcano several times a week and have no difficulty helping with heavy luggage. They will also help you climb the most difficult parts of the mountain.
A hat and sunscreen: These will come in handy when there are heavy downpours or during the hot/dry season.
Camera and Binoculars: You cannot go for such a great experience without a good camera or photos to show of your time at the volcano. Watching a live Volcano is an experience only few ever get in their lifetime. You need good photos for your record and to also show off to friends and family. A binoculars will enable you spot amazing scenery particularly while climbing down the mountain.
Backpack: This is where you would be keeping all your gadgets – phones, ipads, camera, binoculars and more. Ensure that it is rainproof.
Portable charger: This will ensure that your ipads, Laptops, phones are powered while in your cabin at the summit.
A Torch: The summit has no electricity. Power is got from solar but is not available everywhere. You will need a torch to move about to the kitchen or bathrooms.
Important Information About Climbing Mount Nyiragongo
The best time to Hike Mount Nyiragongo: Hiking mount Nyiragongo can be done throughout the year but dry season is preferred by tourists. The dry season fall between June and September and also December, January and February. The rainy seasons cause the the trails to be more slippery and difficult for hikers.
Be in Good Shape: Climbing mount Nyiragongo is challenging and requires one to be fit. The mountain becomes steeper as one ascends while climbing down has its own challenges – Knee and ankle pain because of pressure. The weather conditions get more challenging as one ascends the mountains. You need to take that into consideration especially if you are sensitive to extreme weather changes.
Mental Preparedness: This is key because it is not all about being fit. You need to be determined to complete the hike despite all the challenges you may face. One can prepare the mind and body weeks before the hike by going for minor hikes on rocks or hills around your home.
Use a stick for hiking: A hiking stick will help you climb up and down steep slopes by helping you maintain balance and relive the knees from greater strain. Climbing sticks are available at the starting point.
Keep your valuable safe: Always keep your valuables like cameras, money and laptops close to you even while at the cabins with fellow hikers.
A yellow fever vaccination card is important: To cross the border to Congo, you will be required to show your passport and yellow fever card. Without the card, you may not be allowed entry to Congo.
N.B: Hiking the Nyiragongo Volcano can be combined with gorilla trekking in Congo for a more complete and memorable experience.
BOOK NOW
PERSONAL INFORMATION